I can't believe that we are already at the half year point for 2020 especially with the majority of this year gone to a pandemic. My challenge to myself this year was to complete the Goodreads 52 books around the year challenge. I have read 52 books so far yet not all of those books fell into a category on that list which is okay so now my goal is 62 books for the year. I am secretly hoping to hit 100 books this year but I don't want to fall short and disappoint myself.
I'm very happy to share with you some of the books that I have really enjoyed and my anticipated reads. Thanks to Raes Reading Corner for tagging me, you can find her respond to this tag here: https://raesreadingcorner726922248.wordpress.com/2020/07/02/mid-year-freak-out-book-tag-2020/
1. Best Book you've Read so far in 2020:
I thought a lot about which one to put in this category as I have read so many great books just in these last few months. I had to go with Lobizona by Romina Garber though. (coming out August 4th)
This book does a good job with what it means to challenge the rules and what it means to deserve to live. I liked the way that it handled that topic both in our world and in the world built by the book. I think this book did a great job bringing the issue of what it means to belong somewhere to the surface.
2. Best Sequel you've Read so far in 2020:
I actually have only read one sequel so far this year which is surprising to me as I used to only read series. This year the only sequel I read was Tunnel of Bones by Victoria Schwab. I'm hoping to read more sequels so maybe by the end of the year this won't be the only one.
3. New Release you Haven't Read Yet But Want to:
This one was an easy pick even if there are so many new releases on my shelf that I need to read. I've heard nothing but great things about this book and I'm hoping to get to it this month for Transathon.





4. Most Anticipated Release for the Second Half of the Year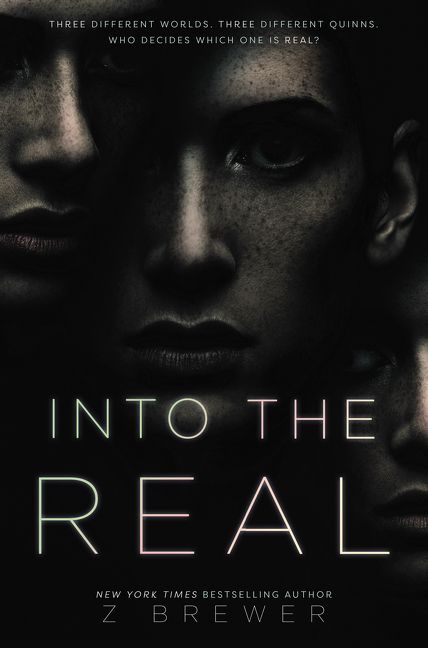 There are so many books coming out in the second half of this year that I can't wait to get my hands on. There is one that I have been waiting for since it was announced very early this year.
Z Brewer is one of my favorite authors and has been since I got back into reading Young Adult as an adult. This book has a genderqueer character who I can't wait to meet as I love all of their other characters.
5. Biggest Disappointment:
I would have to say almost everything that we read for my libraries book club this year. I just didn't connect with a lot of the readings and then some were just really complicated for me to follow. The libraries book club is the rare time in which I try to read adult fiction and really struggle with it.
6. Biggest Surprise:
I was pleasantly surprised by Something to Talk About by Meryl Wilsner. When looking at my shelves I notice that I hardly ever read romance and there's no reason for that. I read a lot of YA that has romance as it's central plot but not much adult romance. I received this book from the publisher though and as it is an F/F romance I wanted to give it a try. I really enjoyed this book and liked that it was a slow burn romance book. I think that if I were to try and read romance novels they would have to be slow burn or friends to lovers.
7. Favorite New Author (debut or new to you):
There are so many new to me authors that I have read this year and have enjoyed. I think I would have to go with Junauda Petrus who wrote 'The Stars and the Blackness Between Them' as my favorite debut author for what I've read so far this year. I really enjoyed the way the characters in this story were written and the ways in which each emotion played out.
8. Newest Fictional Crush
I can't really think of any character that I would say I have a crush on. The characters in my books tend to all be children that I want to protect. So there are many of them that I am amazed by and in awe of but none that I am crushing on.
9. Newest Favorite Character;
There are way too many that I just love and want to be friends with, or live in their world amongst them. I love Manu from Lobizona and the complexity of all her identities. I love how you get to see her in two different settings and while she grows as a character she is still the same person that she always was.
I also really like Soraya and Parveneh from Girl, Serpent, Thorn and how loyal they are to the people that they care about. I love how Soraya learns more about herself throughout the book and how what she learns adds to who she is. I also really like the strength that these two characters lend to each other.
10. Book That Made You Cry:
A lot of books have made me cry this year and I don't know if it is because I read sad books when I'm more emotional or if this pandemic made me emotional. It can also be that these books are just sad or maybe I just cry very easily. It isn't always sad books that make me cry though, books that I connect with are the worst when it comes to making me cry.
The most recent book that made me cry about something that I hadn't let myself process was 'We are Okay' by Nina LaCour.
11. Book That Made You Happy:

I read George by Alex Gino a while ago so when I saw this book I knew I had to read it. I hadn't been reading physical books and there were no books that were getting my mind off something that had recently happened in my family. I picked this book up hoping to get through a few pages and I finished it over the weekend. It was such a cute read and the relationship that Rick had with his grandpa cheered me up.
12. Favourite book-to-film adaptation you saw this year:
I don't think that I have seen any book-to-film movie adaptations this year. I have mostly been watching a lot of tv shows and the closest I get to this is Love, Victor which I loved.
13. Favourite review you've written this year:
I think I would have to go with my review for 'We are Not From Here' by Jenny Torres Sanchez. The writing of that review made me reflect on the privilege that I have by being a U.S citizen whose parents speak english and are also U.S. citizens. It was a book that I really enjoyed in which I learned a lot from.
14. Most beautiful book you've bought (or received) so far this year:
So many of the books that I have received this year are beautiful. I think I would have to go with 'Ghost Squad' by Claribel A. Ortega which was gifted to me.
15. What books do you want to read by the end of the year?
There are so many that I am hoping to read by the end of this year but to name a few:
The Living Dead by George A. Romero and Daniel Kraus
Felix Ever After by Kacen Callender
Cemetery Boys by Aiden Thomas
Red, White, and Royal Blue by Casey McQuiston
Some of these questions were really challenging but I did enjoy looking back at everything that I read this year. It was especially interesting to compare the first two months of reading when I was commuting to work to what I read now as I work from home. I tag any of you who want to do this tag.